TDS (Tax Deducted at Source) is a form of indirect tax collected by the revenue authorities of the Indian government as per the Income Tax Act 1961. This tax is usually collected at the time of generation of income or rather at the time of making payment. Tax is deducted and remitted to the account of Indian government by the person making the payment. This tax is deposited on behalf of the person receiving the payment. TDS is based on the concept of 'Pay as you earn'. To provide the benefit of tax deducted to the person receiving the payment, it is mandatory to file a TDS Return by the deductor.
The whole concept of TDS deduction, collection, deposit and return filing is regulated by an authority called CSEB in India. It has provided certain guidelines for the same and impose the penalty when they are breached.
TDS is applicable on any type of Income, whether it is regular or occasional income like salary, commission, interest, rent, contractual, professional, etc.
TDS is deducted at a specific percentage by the deductor. If an excess TDS is deducted the payee can claim the refund of it by filing income tax return. The percentages applicable to the different type of income are given below: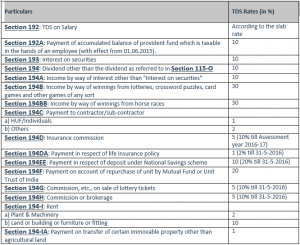 TDS is deducted on the mixed calculation of threshold limit and percentages. There are certain threshold limit which if crossed while making payment, it becomes mandatory for deductor to deduct TDS before making the payment. For example: if the interest income is more than Rs. 5000, deductor will deduct TDS @ 10% on total interest income.
Our team at CA ON WEB helps the deductor with such calculations and return filing.
TDS Returns:
There are various types of TDS returns which are needed to be filled according to the nature of payment made. Following are the forms which are required to be filed.
Form 24Q: This is required to be filed when there is payment of salary by the deductor. It contains the detail information of salary paid and credited to the account of the employee along with the TDS deducted and payment details of the same.
Form 27Q: This form is filed when the deductee is a non-resident foreign company. Any payment made to them and TDS Deducted on it is reported in this return.
Form 26QB: This return is to be filled if any payment is made for the transfer of any immovable property.
Form 26Q: This form is filed for any other case like interest payment, commission payment, professional fees payment, contractual payment etc.
We provide the expert services of filing the TDS return, validating and generating Form 27A and further depositing it to the concerned department within due dates.
Due dates for submission of TDS returns are mentioned below: