Micro, Small & Medium Enterprise Registration holds a much crucial position in the business sector of India. MSME sector is under the topmost priority segment of the government and they are bringing in favorable laws to boost this sector. To give you more insights about the MSME registration process and benefits attached with it, we would give a step by step brief introduction of MSME Registration in India.
What is MSME registration?
According to the guidelines mentioned under the micro, small & medium enterprises act, 2006 viz. also known as MSME Act, 2006 are classified into two broad categories:
1.) Manufacturing enterprise; which are engaged in the production of goods comes directly under the purview of Schedule (I) of Industries act, 1951 OR enterprises which requires the installation of plant and machinery in the formation of the final product.
2.) Service enterprise; which are engaged in rendering services to individuals/corporates or a group of persons that requires the installation of various equipment for the same.

Who is eligible for MSME registration in India?
Any manufacturing or service provider, which fulfills the above-mentioned conditions, must apply for MSME registration before actually start trading. The updated & new guideline will come into force from 1st July 2020 to get an MSME registration in India.
What is the process of MSME registration/Udyam registration in India?
– Login to Udyam registration portal [https://udyamregistration.gov.in/]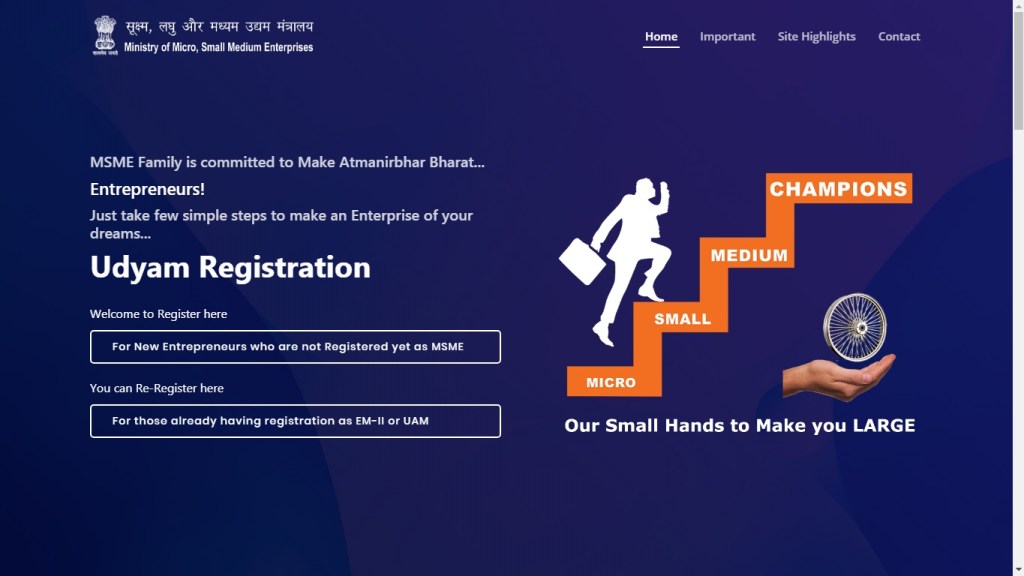 – Choose the appropriate category under which your business lies
For new entrepreneurs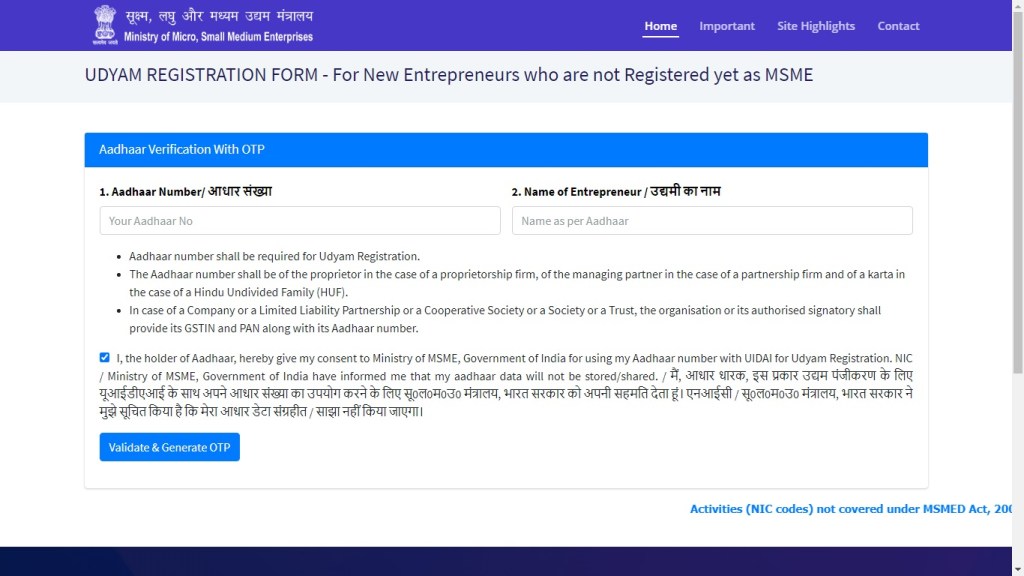 Aadhaar card details & subsequent verification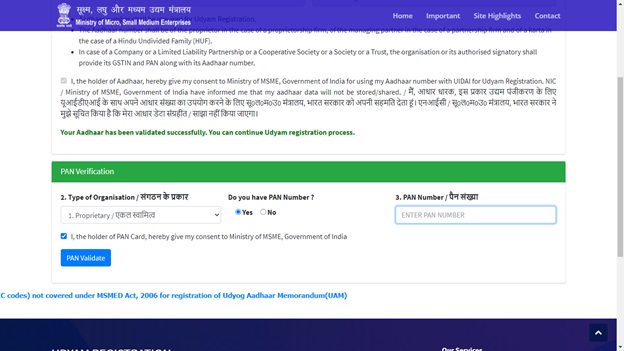 GST Identification Number (GSTIN)/ Permanent account number (PAN)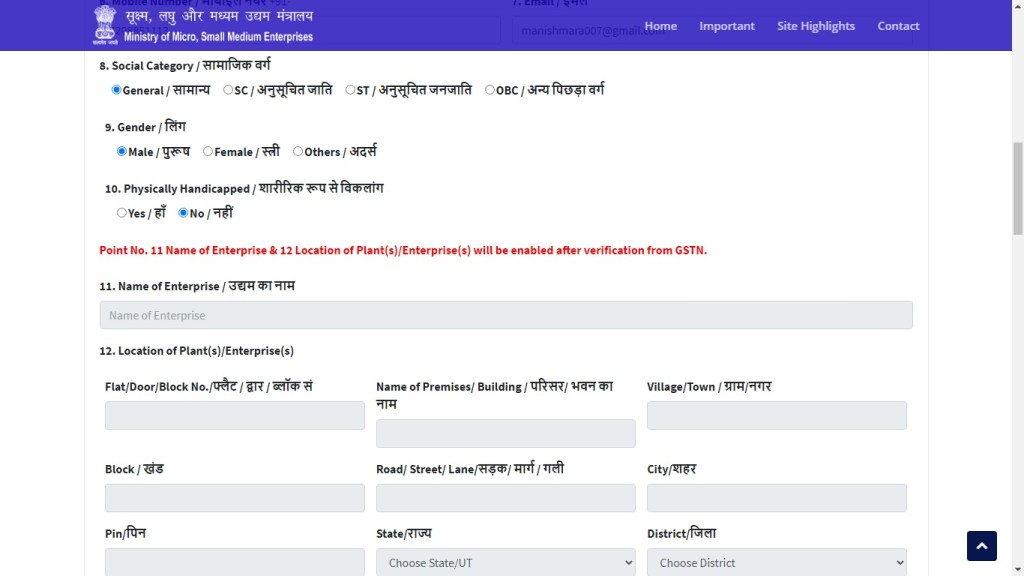 The application form for Udyam registration needs to be filled carefully.
Mobile no/Email ID, Social category, Gender, Name of enterprise, complete permanent address, Bank details, Commencement of business etc.
These are some of the details which need to be filled in very cautiously while applying for MSME registration online.
For already registered enterprises
Existing enterprises registered under EM-Part II must re-register on or after 01st July 2020
Several other documents are also required to be attached with the MSME registration application.
Click the checkbox of "Agree to terms & conditions" after carefully going through all the conditions.
"Submit" & verify the application by an OTP
Once all your documents are processed and checked for authorization, MSME certificate will be issued & will be sent to you via Email.
Some of the benefits associated with MSME registration in India
1.) Ease in getting credit
Since the government policies are directed towards uplifting the MSME sector in India therefore, it becomes quite easy for a potential MSME registration to get credit facility from a public sector bank (PSB)/Private sector bank. However, this will lead to exponential growth in the Indian economy.
2.) Government policy
Fund system for revitalizing traditional industries
SFURTI
Credit Guarantee Trust for MSMEEnterprises
CGTMSE
Prime Ministers Employment generation program
PMEGP
Micro unit development & refinance agency ltd.
MUDRA
National Manufacturing policy
NMP
Interest Subsidy schemeAtmanirbhar Abhiyan
These policies form a major part of the governments initiative to boost the MSME registration in the economy.
3.) Fast track approval of MSME registration
Considering the exponential growth associated with the Ministry of Micro, Small and Medium Enterprises sector and its importance in the growth of the Indian economy, the government has made the process of MSME Registration simple, easy & convenient. Find online CA services for faster and easier UDYAM Registration in India.
4.) The special grievance monitoring system
The government has come up with a special "champions" portal that will look after the grievances related to UDYAM Registration in India. Champions control room working in collaboration with the ministry & various other institutes will be a single window system for facilitating all the grievance of MSME registration, application and other ministerial approval.
5.) Other benefits
Min. alternate tax, Incubation research centers to boost growth of potential MSME's, Zero defect Zero effect scheme for export-oriented MSME's; are some of the benefits which help the Ministry of Micro, Small and Medium Enterprises to reach the highest point in the Indian business environment.
POPULAR ARTICLES
Who needs Registration under MSME? Benefits of Registering Under MSME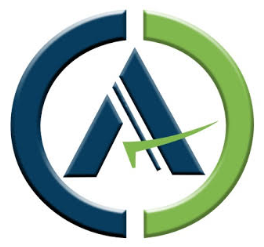 The CAONWEB Team comprises qualified chartered accountants and experienced investment experts who are passionate enough about finances to bring you the best advice and tips on everything related to your hard-earned money.